View the new T-Link Telematics system from Terex Finlay at Hillhead.
Only a couple more days to go before one of the world's largest machinery shows gets underway. This year Terex Finlay is having its largest display ever at the show and is using the opportunity to showcase its latest innovations including the new T-Link Telematics system.  If you are going to be at Hillhead make sure to come by the Terex Finlay Stand L6, where an Ormonde Machinery representative will be on hand to discuss your business needs.
T-Link is a remote monitoring and fleet management system that combines your Terex Finlay machines' inbuilt CANbus control system with satellite positioning and telematics software. From the fleet fundamentals of knowing the hours and location of your machine to sending machine specific alerts and tracking machine production, T-Link can help you remotely monitor and manage your Terex Finlay fleet and grow your business.
T-Link enables you to stay connected and keep track of your equipment, monitor work progress, manage logistics, access critical machine information, analyse and optimise machine performance and perform remote operator support.
Come and have a chat with our training and sales support team on the Terex Finlay stand (L6) and get a personal demonstration and see how it can help you in your business.

Key Features
ENHANCED MACHINE UPTIME
By keeping an eye on the time your machines spend idling, working and tracking from one location to another, T-Link will help you maximise your operations. • Accurate engine hours monitoring. • Planning routine preventative maintenance and servicing • Enhanced dealer support.
ENHANCED SECURITY AND VISIBILITY
Near real time machine location. • Geo-fencing of machine location. • History of machine movements
ENHANCED FLEET MANAGEMENT
The T-Link system allows you to access engine service codes from a centralised location. As a result you can implement performance enhancement adjustments or upskill your operators to improve efficiency. • Fuel economy reporting. (Cost per tonne if Belt-weigh fitted) • Idle time/ Working time monitoring. • Engine load recording. • Fleet management reporting. • Utilisation reporting.
MINIMISE COSTS
By providing fuel consumption analysis (e.g. fuel levels and total daily production costs) T-Link enables you to lower your machine operational energy costs.
HOW DOES WORK?
The system operates on dual-band networks that utilises both cellular and global positioning satellites (GPS) technologies to connect you with your machine in the field.
The T-Link components and software on your machine collects machine data and transmits it to the satellite.
The communication network transmits information to the T-Link data centre.
The T-Link data centre stores harvested data for the life time of the equipment.
Data can be accessed from the machine in near time via the internet from the T-Link data center on your computer, smart phone or tablet.
DATA AT YOUR FINGERTIPS …. 24 / 7 / 365 DAYS
The T-Link system is connected to a network of global positioning satellites allowing operators to access and download machine data regularly via cellular and satellite once the system is activated on the machine. To access machine data, simply log onto the web-based portal and download the data that you require for indepth analysis and comparison. T-Link gives you immediate access and more control over your equipment by providing you with critical and time specific information
MACHINE LOCATION ACTIVITY
Are you sure your machine is where it's supposed to be? T-Link utilises a network of Global Positioning Satellites (GPS). The current position of your machine can be monitored using the map or latitude and longitude references. This information will assist you with both logistics and scheduled maintenance.
YOUR VIRTUAL TECHNICIAN: REMOTE DEALER SUPPORT
Not only can you monitor the productivity and maintenance of your machine. With permission, your local dealer on request can access your machine on the T-Link system to offer enhanced levels of support. Through remote diagnostics your local dealer can analyse the machine data and even prevent a potential breakdown and production disruption.
IS YOUR MACHINE GENERATING THE PROFITABILITY YOU EXPECTED?
T-Link provides near real time data about your machine so that you can proactively manage and respond quickly. To establish just how profitable your machine really is you need to know precisely how much fuel is being use on a daily basis and the total tonnage output. T-Link gives this information remotely enabling you to establish how productive your machine really is.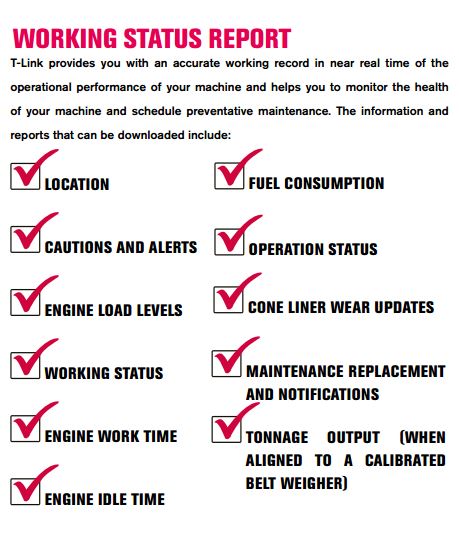 Looking forward to seeing you at Hillhead !
Please like our facebook /twitter pages for regular updates.
https://www.facebook.com/OrmondeMachineryLtd/